Nail Care & Massage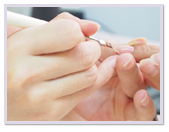 Nail care maintains your own nails, making them healthy and beautiful. Your nails can be kept beautiful by caring them. Have a massage also, which will soothe both your mind and body.


Feel the great relaxation as we give you a warm soaking, nail shaping, cuticle care and a good foot or hand massage.
Nail
Senior Artist
Junior Artist
Gel Polish
980
580
Gel Simple
1780
980
Gel Art 1
2280
1480
Gel Art 2
2680
1880
Sculpture
Clear 2980(+Art fee)
Clear 1980(+Art fee)
Color 3980
Color 2980
Manicure
880
480
Kids
500
Nail Care & Massage
Hand Basic Care
Filing+Removing cuticle + shiner
300
Hand Spa
Basic care+ Massage+ Paraffin
1000
Foot Basic Care
Filing+Removing cuticle + shiner
350
Foot Spa
Basic care+ Scrub +Massage+ Paraffin
1400
Option
Water Care
300
Swarovski
Small 30/ Big 50/ Special 100
Extra Time
600
Floater
1nail
100~
Removal Soft gel
1nail
Off only
50
1nail
Renewal
0
Removal Sculpture/Hard gel
1nail
Off only
70
1nail
Renewal
50
Staff Request
200
Price listed are inclucive of VAT
KIYOSA Japanese Total Beauty
Ground Floor, F1 Hotel, 32nd Street, Cor. Lane Q, Bonifacio Global City, Taguig City
Hotline: (+63-2)805-8888 / 0939-9158888 URL:http://kiyosa-beauty.com/
Email: info@kiyosa-beauty.com Facebook https://www.facebook.com/kiyosa.jtb
Comments are closed.